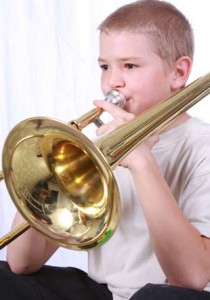 Kramer's School of Music offers private instruction, semi-private and group lessons in trumpet, French horn, and trombone. Lessons are available in 30, 45, and 60 minute durations. Our lessons are individualized for each student, and the teachers customize a curriculum to fit every student's needs, goals and levels. Our woodwind teachers teach a variety of styles: Classical, pop and jazz.
Reasons to play a brass instrument:
To play in a chamber group of people or band.
To develop the lung capacity and breathing techniques.
Be able to easily switch between instruments in the brass family.
What is the best age to start Brass Lessons?
We offer lessons starting from age 8 onwards. Earlier than age 8, a student typically does not have the lung capacity and strength to handle these instruments.
Adults: It's never too late to learn how to play! We welcome beginners and all levels no matter what age!
What are the performance opportunities?
Kramer's School of Music Recitals: Halloween Recital, Holiday Recital, Spring Recital and Summer Recital.
Kramer's School of Music band
MMTA Exam Program
State and local contests, festivals, and recitals
Royal Conservatory Music Development Program
Audition to Greater Twin Cities Youth Symphonies
Audition to Minnesota Youth Symphonies
Audition to Minnesota Youth Jazz Band
Master classes with guest musicians