Percussion / Drum Lessons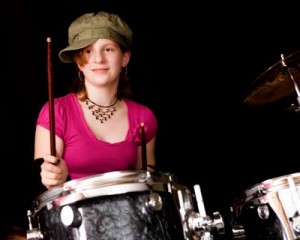 Kramer's School of Music offers private instruction, semi-private and group lessons for drums. Lessons are available in 30, 45, and 60 minute durations. Our lessons are individualized for each student, and the teachers customize a curriculum to fit every student's needs, goals and levels. Our drum instructors teach rock, metal, jazz, funk, blues and many other styles. Drum language can be complex and our instructors will challenge any drummer with a wide variety of technical exercises designed to improve your speed and comfort.
Reasons to play Drums:
Drums are especially adept at developing coordination and an acute sense of rhythm.
Drums are also a very communal instrument. Drum circles link cultures and people together socially.
Drums and percussion instruments form the backbone of most modern musical ensembles, from rock bands to symphonies.
What is the best age to start Drum Lessons?
We typically start drum lessons around the age of 4 or older.
Adults: It's never too late to learn how to play! We welcome beginners and all levels no matter what age!
What are the performance opportunities?
Kramer's School of Music Recitals: Halloween Recital, Holiday Recital, Spring Recital and Summer Recital.
Kramer's School of Music band
MMTA Exam Program
State and local contests, festivals, and recitals
Royal Conservatory Music Development Program
Master classes with guest musicians