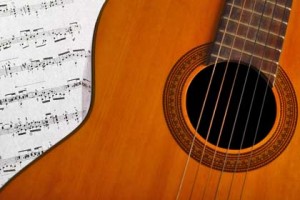 Kramer's School of Music offers private instruction, semi-private and group lessons in acoustic, classical and electric guitar. Lessons are available in 30, 45, and 60 minute durations. Our lessons are individualized for each student, and the teachers customize a curriculum to fit every student's needs, goals and levels. Our guitar teachers teach a variety of styles: classical, pop, rock, blues, metal, country, and flamenco.
Reasons for playing guitar:
Guitars are very popular in modern music, showing up in jazz, rock, pop, country, and other styles of music.
To jam with other musicians in a rock band setting, accompany yourself or others while singing your favorite songs, or play solo pieces picked from a diverse repertoire that is written for guitar.
To learn tablature and chord charts.
What is the best age to start guitar lessons?
We offer private guitar instructions for the students ages 7 and up. For younger students we offer group classes.
Adults: It's never too late to learn how to play! We welcome beginners and all levels no matter what age!
What are the performance opportunities?
Kramer's School of Music Recitals: Halloween Recital, Holiday Recital, Spring Recital and Summer Recital.
Kramer's School of Music guitar ensemble
MMTA Exam Program
State and local contests, festivals, and recitals
Jam in the rock band or guitar ensemble
Royal Conservatory Music Development Program
Master classes with guest musicians