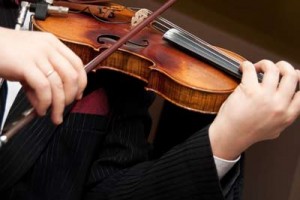 Kramer's School of Music offers private instruction, semi-private and group lessons in violin, viola, cello, and double bass. Lessons are available in 30, 45, and 60 minute durations. Our lessons are individualized for each student, and the teachers customize a curriculum to fit every student's needs, goals and levels. Our string instructors teach a variety of styles: classical, jazz, and folk. Both Traditional and Suzuki methods are available and used during the lessons.
Reasons for playing a string instrument:
To enjoy the beauty of the sound produced from vibrating the strings
To play in a chamber group of people or in a full orchestra.
To develop ear training skills, left/right hand coordination, and musical expressivity.
What is the best age to start string lessons?
We offer private violin/viola instructions for the students ages 4 and up. For the students younger than 4 years of age, we offer group classes. Due to the size of the instrument, most cello and double bass lessons start at 10 years of age or older.
Adults: It's never too late to learn how to play! We welcome beginners and all levels no matter what age!
What are the performance opportunities?
Kramer's School of Music Recitals: Halloween Recital, Holiday Recital, Spring Recital and Summer Recital.
Kramer's School of Music string ensemble
MMTA String Exam Program
State and local contests, festivals, and recitals
Audition to Minnesota Youth Symphony
Audition to Greater Twin Cities Youth Symphonies
Royal Conservatory Music Development Program
Master classes with guest musicians